Doors
The front door is a vital part of the appearance of the house. If you need to replace one you must match the original appearance exactly. This will mean having a wooden door made specially. See the Replacement Windows and Doors page for full details, preferred suppliers, and technical drawings.
Knob
Front doors have a large external knob to pull them closed with. This was a WEHAG product and is no longer made, so please don't lose yours!
The knob is about 65mm diameter and it projects about 65mm from the face of the door on a 20mm diameter shaft. It does not rotate – the knob is just for pulling the door closed and it does not control the latch.
If you do need a replacement, have a look at the satin-chrome version of the Fulton and Bray Mushroom knob. These are intended as turn-handles, but the dimensions and shape look very close to the originals.
Other possibilities would be the FSB 23 0802 and 23 0803 designs, but those are spherical so they would not look quite right. The Arkitur Large Ball Knob set is similar but less expensive and probably easier to fit. Frelan Hardware also produce a mushroom knob, though it is a little smaller than the originals.
It would not be too hard for a machine shop to reproduce the original shape. The difficulty would be to match the surface finish.
Lock
The original locks have long since worn out, and they would not meet modern insurance requirements anyway. The features they provided are well chosen though:
Slam closed
Deadlockable with a key from either side
Openable with a handle from inside if not deadlocked
Snib to prevent locking when required
One product that meets these requirements is the Chubb/Union 3R35. It does need its own internal furniture, but the brushed aluminium version looks OK: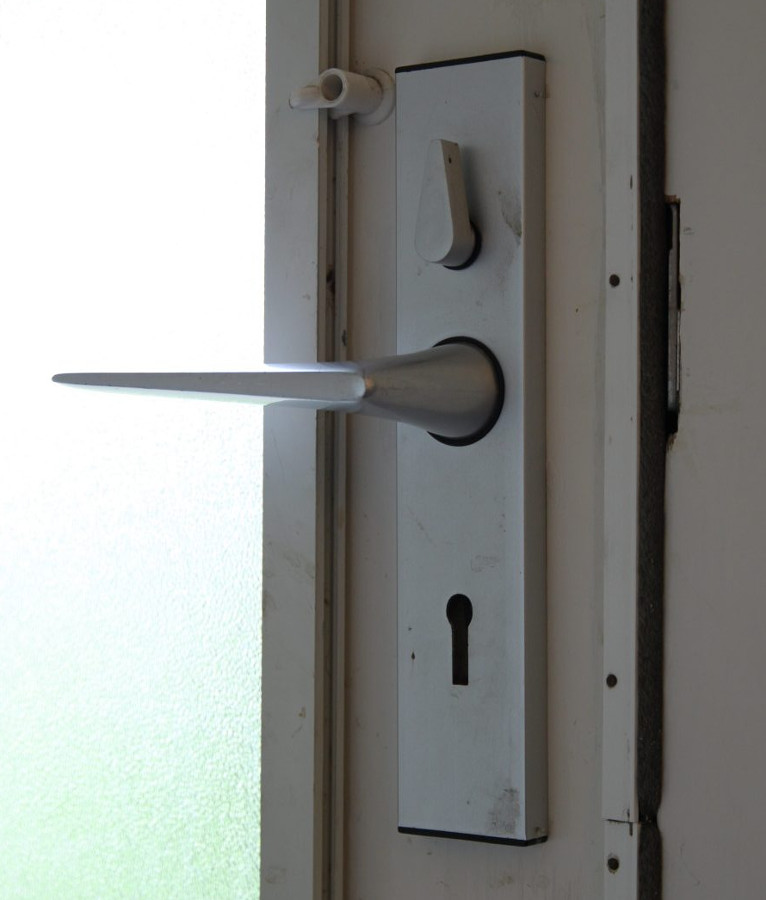 Please make sure that any external fittings (keyholes etc) are finished in brushed aluminium or stainless steel.